Get ready for yacht comfort with its modern design and large interior volume.
---
Get ready for yacht comfort with its modern design and large interior volume. It provides speed and control ergonomics with its specially designed console. The 750 Eagle speedboat, which is used for many different purposes, is preferred as a pleasure boat. To experience the excitement of a speedboat in yacht ergonomics, choose 750 Eagle and become the ruler of the seas.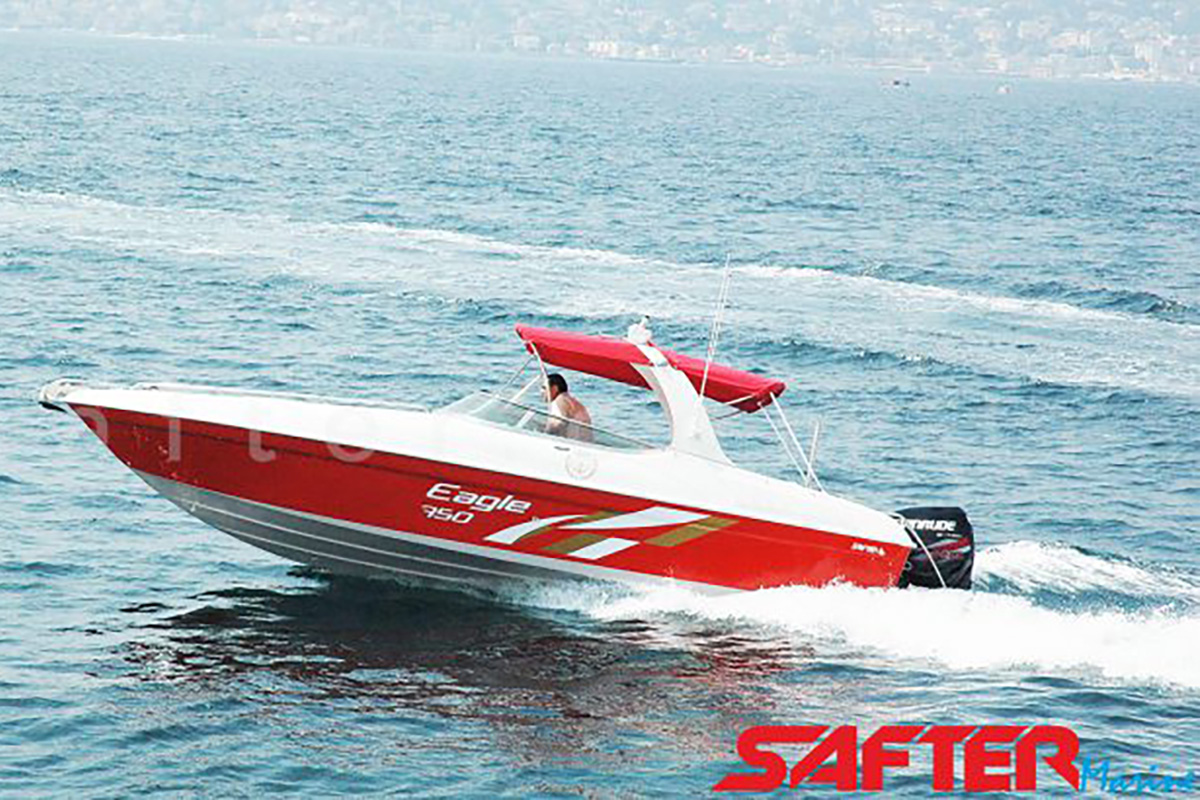 The privilege of a speedboat on the Sightseeing Boat is in the Safter Marin 750 Eagle model. The Safter Marin 750 Eagle is 780 cm long, 245 cm wide and can reach speeds of up to 52 mph with 250 maximum hp. Standard equipment; upholstery/cushion kit, hatch cover, Awning-Sunbrella, wooden cabinets, fiber rollbar, shower set, rear platform, sporty command seat, telescopic ladder, overhead cabin, wooden table with chrome legs, chrome handles, chrome fuel tank 145 Lt., chrome glass frame, chrome ski tow bar, MP3 player & marine speaker included.
---
You can enjoy the sun in the overhead rest, or you can water ski with the ski tow bar on the stern, you can feel the wind in your hair and experience your adrenaline passion. You can swim in the sea and take a shower. You can have the Safter Marine 750 Eagle Fiber Speedboat model, which has all the features you expect from a speedboat, with reasonable price advantages. The optional sunbathing mat will increase your enjoyment.
Optionally, according to your needs, on its useful and ergonomically designed deck; Quench your tiredness and thirst with an in-cabinet refrigerator, a chrome cooker for the kitchen, a sink and a table. Safter Marin 750 Eagle is a rare speedboat model with recreational boat features.
You may find it difficult to choose different engine options for our model, which has the speed, durability, performance and comfort required in a speedboat. As a requirement of our continuous customer satisfaction mission; We offer our economical engine brands and models to your service.
Our model, which also responds to the need of the excursion boat, is produced with a guarantee of high quality and workmanship. With our speedboat model with endless color options and options, we can make you live your dreams in the sea. If you want to enter this summer with a speedboat, you can visit our page or showroom to view our Safter Marin 750 Eagle model. Do not delay… Summer is almost here!
---
---